Abhyanga : Nourishing Massage Oil blend
Abhyanga is purely handcrafted and is blended with pure essential oils and herbs with organic Sesame Oil which nourishes your skin, helps in relieving pain, de-stress and revive you after a long day of work.
.
Apply it gently on your affected parts, joints, muscle cramps or your chakras, . Lovingly Massage it for few minutes.
Let your Body Mind and Soul heal. Helps in relieving pain and relieves stress.
.
-21%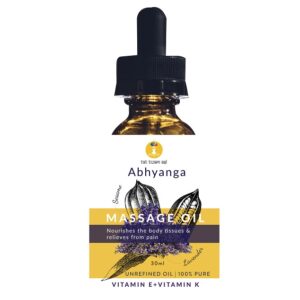 Abhyanga : Nourishing Massage Oil blend
Description
Launching our New Product
❇️ABHYANGA❇️
This handcrafted beauty is blended with pure essential oils and herbs with organic Sesame Oil which nourishes your skin, helps in relieving pain, de-stress and revive you after a long day of work.
.
Apply it gently on your affected parts, joints, muscle cramps or your chakras, . Lovingly Massage it for few minutes.
Let your Body Mind and Soul heal. Helps in relieving pain and relieves stress.
.
A group of healers have put their heart and soul to bring Healing to all of you. After months of research and blessings, ABHYANGA is now ready to reach to all of you.
.
Try it now